To Give You the Finest...
Nothing Left Undone

From the all-metal propellor to the tail cone, every item in the Cessna 190 series is the best. For instance...the Hamilton Standard, constant-speed propellor - time-tested and proved by years of service on airline and military aircraft - is standard equipment on the Cessna 190 series.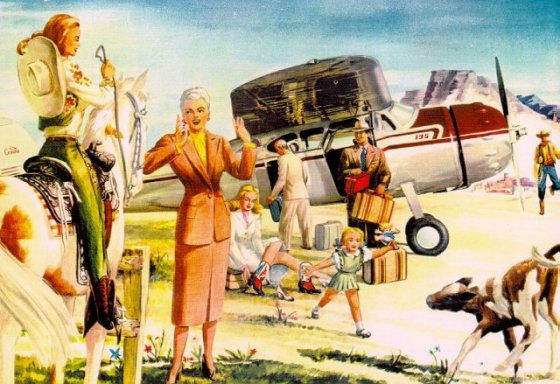 The Continental and Jacobs engines...your choice on the 190 and 195...have been flight proved in Army, Navy and Commercial planes with literally millions of the toughest kind of flying miles. From this grueling experience, the military approved both engines for over 1,000 flying hours between major overhauls. This means more than three years of normal business and personal flying before your engine will need major service.


You'll find built-in, long-distance comfort that's hard to believe until you've actually relaxed in the no-sag spring seats padded with sponge rubber - streched out in leggy roominess. You'll find a low noise level in flight too...a quietness that encourages business talk or pleasant conversation.


You'll find a choice of color schemes in the finest all-wool upholstery...individualized ventilation that allows each passenger to adjust the air to his own liking...ash trays conveniently located at each seat...an oversize baggage compartment that really holds 200 pounds of baggage...a reading-size dome light as well as a map light for the pilot...a baggage compartment light to end dark-time fumbling.


The all-metal, high wing keeps you shaded from the broiling sun...a real advantage when flying cross-country. And sitting in shaded comfort, you have an unobstructed view of the magnificent countryside unrolling beneath you at over 165 miles per hour.


Source: 1947 Cessna 195 Sales Brochure