Two Executives...For the Price of One

That's what progressive businessmen everywhere have found the airplane gives them. The time saved, the extra distances easily covered, more than double the time-production ratio of salesmen and executives.


As an executive, your personal influence and home office influence can be extended over a radically wider area. As a salesman, you can make more calls per week...give rush service, never before possible, to valued clients and prospects.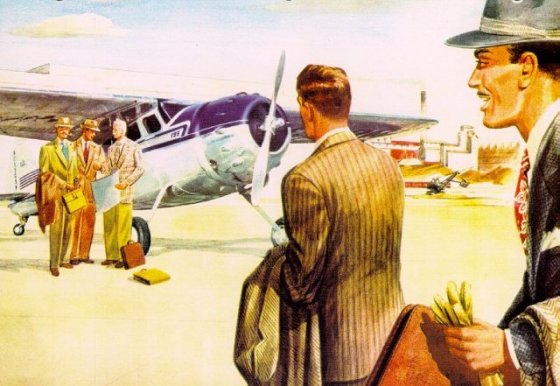 And you'll find less reluctance about leaving the office for those important trips. Usually you can make calls up to 700 miles away and still be home for dinner. Too, you'll find your travel time is so much more pleasant. Cruising at airline speeds of over 165 miles per hour, away from the distractions of your office, you can go over important papers...or just relax and get a new perspective on the business battles that lie ahead. With your own aircraft, there are no more problems of meeting schedules. You leave when you want to and go where you want to.


Many executives realize an additional return on their investment by using their airplanes for jaunts to favorite fishing, hunting and loafing spots. Trips that used to take days becoming a relaxing week end that sets you up with renewed energy to meet the complex problems of today's business.


Embodying dependable airline-type engines and constant speed propellors the Cessna 190-195 is the finest 4-5 place aircraft yet built for the individual or organization who wants comfort, speed, and safety at a price that is economically too profitable to pass up.


Source: 1947 Cessna 195 Sales Brochure